I made this piece on some wonderful handmade paper that I bought at Saltaire mill last Friday when I went to see the Hockney show there. His use of colour resonates long after the visit. I've been reading Gaston Bachelard Poetics of Space, in relation to my 'nest' investigations for the proposed collaborative show with Neoartists based on the theme 'Self and Other'. His thoughts on the nature of the houses we live in or have lived in resonate on so many levels. I fell for our current house because of the front door. Here is a sketch I made today. I hope to explore the house though a series of little drawings and paintings and see where it takes me.
Am including some shots of the Hockney visit too.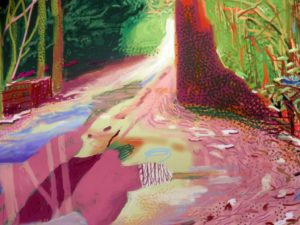 Also,  I've just completed a study in the same media of orchids and irises on our window-ledge. I'll keep exploring the house nest with studies like these all week and see what develops. I have lots of paper so watch this space! Don't forget to click to enlarge to see marks and colour more clearly.