Here is a photo of my French pictures in my brother's gallery in Askham. The private view was on Saturday 1st December and went very well with mulled wine and mince pies flowing. You can see another couple of pics from the night.
Here is the entrance to the gallery with my pictures along the back wall.
Here is a wider shot of the gallery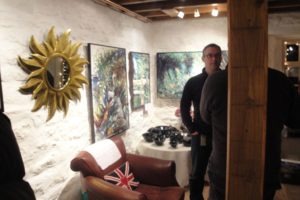 A close-up of the French pictures with a comfy armchair.
The exhibition is on all this month in the barn opposite the pub: The Queen's Head in Askham. My brother's ceramics are for sale as well, along with some photography and other prints. Giclee prints of my own work are available to order.